Free GROUND shipping on ONLINE orders over $199! No code necessary.
Welcome!
FarmTek, the most trusted name in electronic timing of barrel racing and other speed events, is proud to introduce a new, lower cost version of our popular Laser Stakes!

Instead of marking barrel, pole and electric eye positions with stakes driven into the ground, Laser Stakes mount in the ceiling of your arena to mark positions with a beam of light. This permanent solution to marking your barrel, pole, and eye positions makes each set-up fast, easy, and accurate. And with no stakes in the ground to avoid, arena drags are quicker and more effective.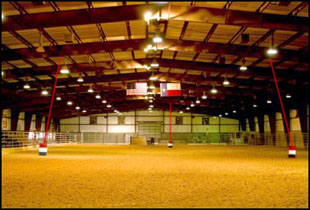 How are Laser Stakes used?
Each Laser Stake (one per barrel, pole, etc.) mounts with a strong magnet to a metal support in the ceiling of your arena.

The adjustable mount allows you to aim the laser exactly where the barrel, pole or electric eye should be placed.

Lasers are powered by a single AC adapter with low voltage wire (not included) connecting DC power from laser to laser.

Want to know more? Click for ordering information or for an installation overview.